Medellin runs along the Aburrá Valley in a more or less North / South direction. Over time the City of Medellin has gradually expanded merging into the City of Bello to the north and the Cities of Envigado & Itagui to the South.
The main barrios of Medellin are demonstrated in the map below. As a tourist you will probably use El Poblado as your base to eat and sleep. If you are interested in the history and culture of Medellin then you'll certainly spend some time sightseeing in El Centro, a zone within La Candelaria, but we don't recommend you stay there after dark.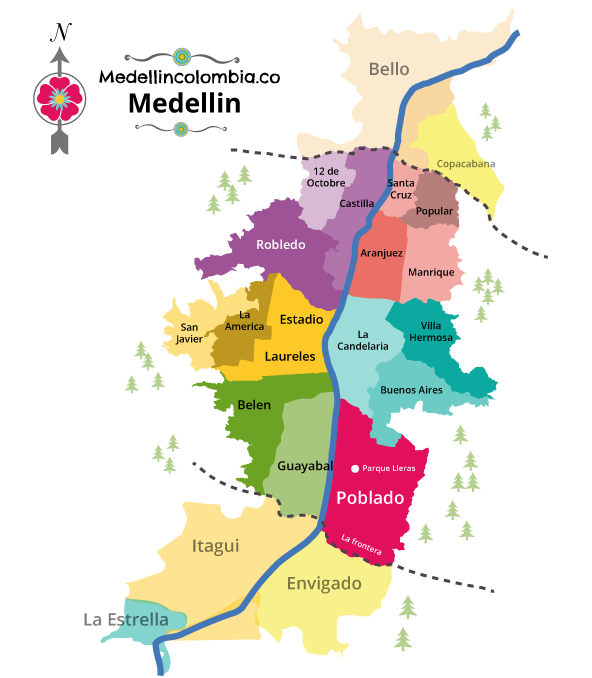 Where Not to Go In Medellin
In general the least safe barrios are the barrio populares, as they are called here, which stretch high up the hills of Medellin. Usually there is no reason to even go anywhere near these places.
We recommend taking the Metro Cable if you want to get a glimpse into the daily life within these communities. Or why not learn how these barrios are being transformed through urban regeneration programs on the Medellin Graffiti Tour.
The following crime heat map should give you a general idea of where to avoid going.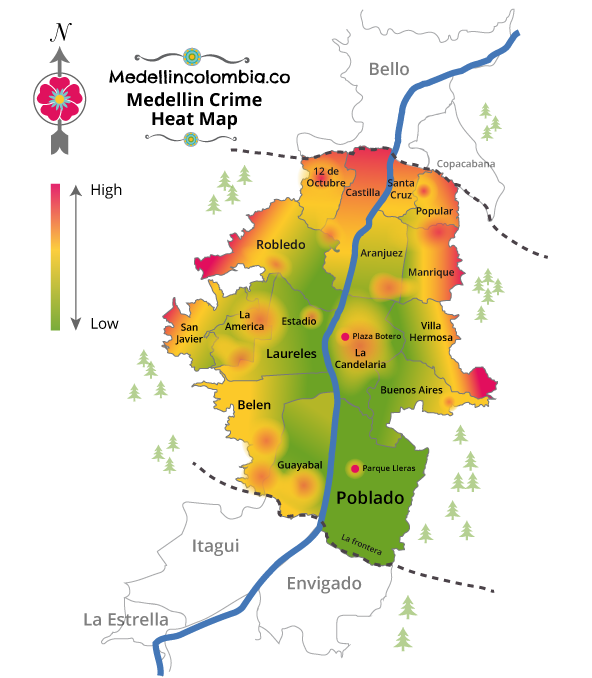 Where to Stay in Medellin?

Amongst locals, El Poblado is considered to be the "Hollywood" of Medellin. It's the most affluent, cleanest, modern and safest zone of Medellin. This is not to say you should walk around with your Rolex and SLR camera, you should exert caution at all times, like in any big city.
Poblado is packed full of restaurants, upmarket shopping malls, bars, and high-rise apartments many with gym, pool and/or entertainment zones.
For obvious reasons Poblado has evolved to be the epicenter of tourism in Medellin. These days, most hostels & hostels are located in Poblado. Despite this, the concentration of tourists is still fairly low compared to larger South American cities such as Buenos Aires, Quito, Lima or Rio De Janeiro.
Where to Stay in Poblado?
Where to stay is a matter of personal preference, however to get an idea of some of the main reference points in Poblado we briefly describe them here. 
Parque Lleras
is considered to be the hub of El Poblado's nightlife. This is usually the first destination that tourists get to know when they arrive in Medellin. Consisting of a busy park square, four streets, and several cross streets, Parque Lleras (or just "Lleras") has numerous restaurants and bars pumping out loud music until the early hours of the morning. When meeting-up with friends, Juan Valdez tends to be the easiest and most common reference point.
Provenza
is a little slice of Europe in Medellin. Generally, it's seen as the posh and expensive part of Poblado where fashionable people go to be seen whilst shopping in boutique stores and eating international food. Provenza starts at Via Primavera (Carrera 37) and stretches up the hill until Carrera 33. As well as being one of the most beautiful zones of Medellin, it has a surprising amount of cuisine choices - Indian, Arabic, Japanese, Taiwanese, Greek, French and Italian cuisines. The budding success of these international cuisines may be attributed to the fact that Provenza has the highest concentration of hostels in Medellin and the international influence they bring.
Calle 10
is the main access road that runs from the Poblado Metro station, up the hill past Parque Lleras, and up towards a modern shopping mall, El Tesoro. This street has a high concentration of fast food restaurants ranging from street-food, such as empanadas and hot-dogs, to major western chains such as Dominos, Subway and KFC. After the nightclubs close, they tend to get pretty busy.
Mille de Oro
the "Mile of Gold" is the main financial district of Medellin and stretches along Avenida Poblado (Carrera 43A) from Parque Poblado to the Santa Fe shopping mall. Along this stretch, you will find many modern office towers, shopping malls, fine dining and a few clubs. Rio Sur is currently the hottest spot in town, and seems to be the best place for certain locals to flaunt their wealth.
Parque Poblado
has always been known as the "alternative" Parque Lleras. On Friday or Saturday nights you can see a myriad of youngsters drinking in and around the park. It's a great eclectic mix of students, rockers, goths, hipsters, gays, and the types of crowd who perhaps don't identify with the more commercial Parque Lleras. There's no need to go to a bar to buy a drink, there are several shops where you can buy takeaway beers, aguardiente or rum, as well as a ton of street vendors all wanting to sell you the coldest beer in Medellin. Note: in recent years the police are cracking down on drinking in the street so do so with caution. 
Manila
located to the north of Parque Poblado, is one of the few areas of Poblado not overdeveloped with highrise apartments. Housing is very much older in style compared to the rest of Poblado, and therefore, the possibility of finding cheaper accommodation is much higher. However in the last couple of years the area has been experiencing a growth of trendy new restaurants and cafes. This is prompting somewhat of an urban regeneration in the area and prices will probably rise in the future.
As Medellin because more popular as a tourist destination new locations are becomming popular for tourists to stay.
Laureles
is located on the other side of the Medellin river and is considered the tranquil alternative to Poblado. Whilst Poblado is very hilly, Laureles on the other hand, is flat and very easy to walk around. Numerous restaurants that find success in Poblado soon open a branch in Laureles. The area used to be much cheaper than Poblado however the property prices seem to be rising to a Poblado level.
Envigado
Located at the southern end of Poblado, Envigado doesn't have a distinct beginning from Poblado. However, as you reach Parque Envigado things significantly change. Unlike Poblado, where everyone drives to the shopping mall, in Envigado the streets are full of people walking & shopping at local stores along the roads. Many tourist like to stay in Envigado to experience the hustle and bustle of this more traditional working class suburb. Be prepared for more noise than other parts of town.
Other Areas
If you are a first time visitor to Medellin, we strongly recommend you start by staying in El Poblado. As you become more accustomed to the city and get a feel for the lay of the land, you then might want to choose another area of town that further caters to your needs. However, remember that El Poblado is the safest zone in town. By moving away from Poblado, you are choosing to put yourself at a higher rate of being a victim of crime.
The Colombians have a saying "no dar papaya" or "don't give papaya" in English. Basically, this means don't go asking for trouble or giving an opportunity to be a victim of crime. If you choose to live in a less safe neighborhood, you should accept the consequences of putting yourself at a higher risk for crime.
On certain online forums and facebook groups, you will come across many locally based gringos who advise that you shouldn't stay in Poblado. They cite that "it's full of gringos" and because "it's very expensive" and best of all if you stay in Poblado "you won't get the authentic Medellin experience".
Obviously this is all nonsense, most of the comments are from people who rent property in less safe neighbourhoods.  Staying in a poor neighborhood is no more authentic than staying in a rich neighborhood, it's all the same city at the end of the day. If you have been to Argentina, Peru or Ecuador you will appreciate Colombia for being a refreshingly unknown tourist destination not overun by foreigners.
Sure Poblado is expensive for the locals but with the exchange rate in your favor we recommend you spend a little bit extra for the peace of mind that you're staying in the safest part of town.