Museums & Tourist Attractions of Medellin
Museo de Antioquia - arguably one of the best museums in Colombia. There's a huge Botero exhibit, if you're interested in Colombia's most famous artist (and "the son of Colombia") as well as a few other exhibits pertaining to modern, colonial and religious art. The beautiful architecture of the building alone may be worth the entrance fee of 10,000 COP. Opening hours: Mon - Sat 10:00 am - 5:30 pm, Sun & Public Holidays 10:00 am - 4:30 pm.
Museo de Arte Moderno - If you're a fan of modern art, the Museum of Modern Art is a must-see during your stay in Medellin. The building was recently given a grand renovation making it truly international standard. Exhibits tend to change every few months, it's worth checking their website beforehand to see what's being featured. The entrance fee is 8,000 COP and they are open Tue - Sun 9:00 am - 5:30 pm. They are closed on Mondays, except Public Holiday Mondays, in which case they will be closed on the Tuesday. Once a month they do late viewings as well which will be advertised on MAMM's facebook page.
Casa de la Memoria: This museum is dedicated to the promotion of the reconstruction, visibility and comprehension of the armed conflict occurring in Colombia from decades ago till the present day. It is one of the few museums in the world that endeavors to bring awareness to a conflict that is still on-going. Under the moto "Remember in Order Not to Forget" the ultimate aim of the museum is to promote the peaceful coexistence of people, safe-guard the history and memories of the victims of the conflict. However it does not go into any specific details about the conflict itself. Many of the interactive exhibitions are subtitled in English, plan 30 mins to an hour to visit. Entry is free.
Parque Explora - Demonstrating Medellin's innovative streak Parque Explora is an interactive science park complete with 3 themed hands-on exhibition spaces, aquariums, vivariums, 3D cinema and loads more. Brimming with curiosities of interest to all ages, numerous things to touch, animals to spy, even David Attenborough would be impressed. Admission is 22,000 COP and opens Tue-Fri 8:30am-5:30pm (last entry 4pm), Sat, Sun & Public Holidays 10am-6:30pm (last entry 5pm).
Planetario De Medellín - provides an entertaining and informative projection on the domed ceiling as well as 42 interactive science related activities. It's great experience for kids as well. The entrance fee is $13,000 COP ($4.50 USD) and is open roughly between 8:30 am and 5:00 pm with the last shows about an hour before closing time.
Pueblito Paisa - atop a hill known as Cerro Nutibara, Pueblito Paisa is a quaint, replica town filled with artisan shops and laid-back restaurants. If you haven't had the opportunity to visit a real Colombian pueblito (town) then you might appreciate the appeal of Pueblito Paisa, but otherwise you'll probably just see it as a tourist trap selling tacky souvenirs like fridge magnets and keyrings. Regardless one thing is for sure, on the top of Cerro Nutibara the wonderful 360 degree panorama of Medellin is worth going for alone. Safety can be an issue climbing to the top so best to take a taxi there.
El Castillo Museo y Jardines - Who would expect a majestic European style castle set in the middle of Medellin - a poetic contradiction, yet a great way to spend a beautiful Medellin day. Guided tours of the castle depart hourly and is the only way to see all the rooms inside the house, which are filled with antique furniture and fine china collections. The gardens are huge and an ideal place to take a significant other for a romantic picnic as well. There's an entrance fee of $10,000 COP ( $4 USD) and is open Mon - Fri 9:00 am - - 6:00 pm and Sat, Sun & Public Holidays 10:00 am – 5:00 pm.
Cementerio Museo del San Pedro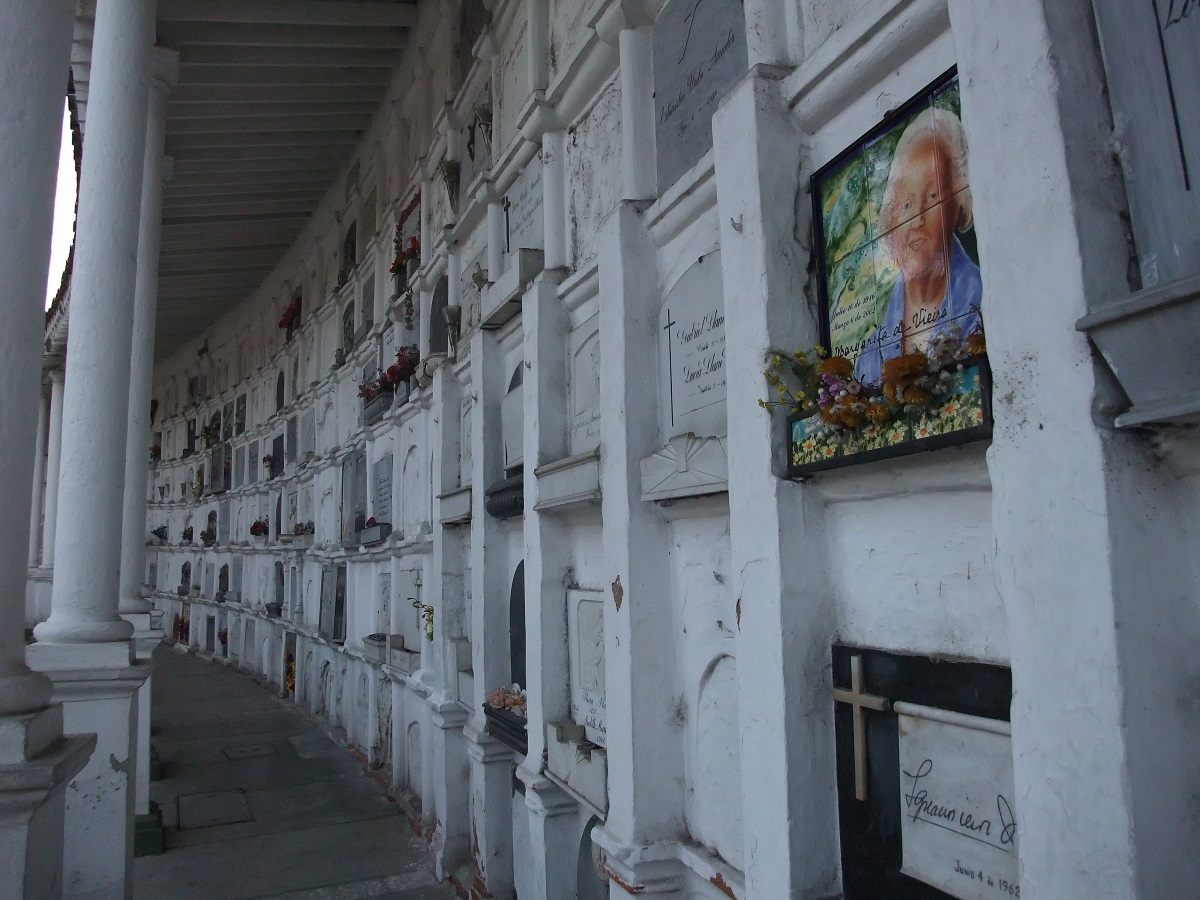 Cementerio Museo de San Pedro - The San Pedro cemetery was founded in 1842 for the elite of Medellin and today it's part of Medellin's museum network. The cemetery is packed with marbleized history and an eery beauty. It definitely seems more like a museum than a cemetery due to the artistic concentration that went into creating the various works that adorn the graves of the deceased. Definitely worth a visit if you like to take photographs and more so because it's free to enter. There are various special events especially around full moon, including cinema nights and nocturnal guided tours, if you're under the inclination that getting "spooked" is time well-spent.
Casa Museo Gardeliana (Tango Museum)
Casa Museo Gardeliana (Tango Museum) - Located in Medellin's Manrique district, this small, colorful house is dedicated to tango and one of the most famous tango superstars - the Argentinean singer, Carlos Gardel, who unfortunately met his demise in a plane crash at Medellin's domestic airport. If you're interested in learning about how his life sparked tango's popularity in Medellin, this quaint, suburban museum can be reached by taking a metro to Universidad and then taking a taxi for about $5,000 COP ($2 USD). The address is Carrera 45 #76-50, Manrique.
Zoologico Santa Fe - The Medellin Zoo whilst small and perhaps not the most animal friendly, remains an important destination for the education, conservation and protection of wild animal species, mostly from the South Americas. Many of important exotic species on display have been rescued from illegal animal traffickers whilst others, such as the hippos, originally came to Colombia to stock the collections of drug dealers such as Pablo Escobar.  At the zoo you'll see a wide variety of animals, birds and reptiles and many curiosities such as jaguars, anteaters, toucans and the chigüiro (the world's largest rodent). The zoo is well laid-out and should take a couple hours viewing at a leisurely pace. The zoo is open everyday from 9 am to 5 pm and admission is 11,000 COP.
Parque Arvi + Insect Museum/Butterfly Sanctuary - If you're looking for a full day outdoor experience take a scenic Metro cable car up to Parque Arvi and spend some time in Medellin's protected forest reserve. There are many things to do in Parque Arvi including hiking, horse riding, zip lining, take a boat on the lake and even camping. Within the beautiful Arvi Park you can also find Museo Entomológico - an comprehensive insect museum, complete with hundreds of different species in terrariums. There you will also find the Mariposario - a wonderful butterfly sanctuary. Even non nature lovers will find this venture worthwhile. Be sure to take a camera.
The metro ticket, including cable car to Parque Arvi is about $7,000 COP one-way, and the park entrance fee is included in the Metro cable car up to Parque Arvi.  There is separate entrance fee for the Insect Museum and Butterfly House which may set you back about 20-30,000 COP but are both worthwhile. Unfortunately they is not a reliable website to check details but once you arrive at Parque Arvi there is an information centre. Open hours are: Tuesday to Sunday 8:00 AM to 4:30 PM (open public holiday Mondays). Make sure you don't stay too late or you might have trouble returning on the cable car and you'll be faced with a long bus ride home.
Los Miradores - if you're a fan of amazing views and want to enjoy the sparkling lights of Medellin then you need to head to El Mirador de Las Palmas.  To get here you can go by taxi but it's better to recruit a local friend with a car so you can hang out, grab a chorizo to eat and drink a "hot chocolate with cheese".
Map of Museums in Medellin