Medellin Walking Tour
We hope you enjoy this free downloadable Medellin Walking Tour. We recommend you start the tour by getting the Metro to Alpujarra Station and following the numbers on the map. The tour will take around 4  hours depending on how quickly you walk and you should add an hour for every museum you visit. If you have limited time you may prefer to start at Parque Berrio Station.
Note: Each attraction on the map is described in the previous section Cultural and Historic "El Centro"
(For safety reasons we recommend you do this walking route during the day and exercise the usual safety precautions as you would in any large city centre)
If you don't want to navigate El Centro alone we really recommend the Toucan Cafe's Big 50 Medellin Walking Tour the most complete Medellin Walking tour.*
---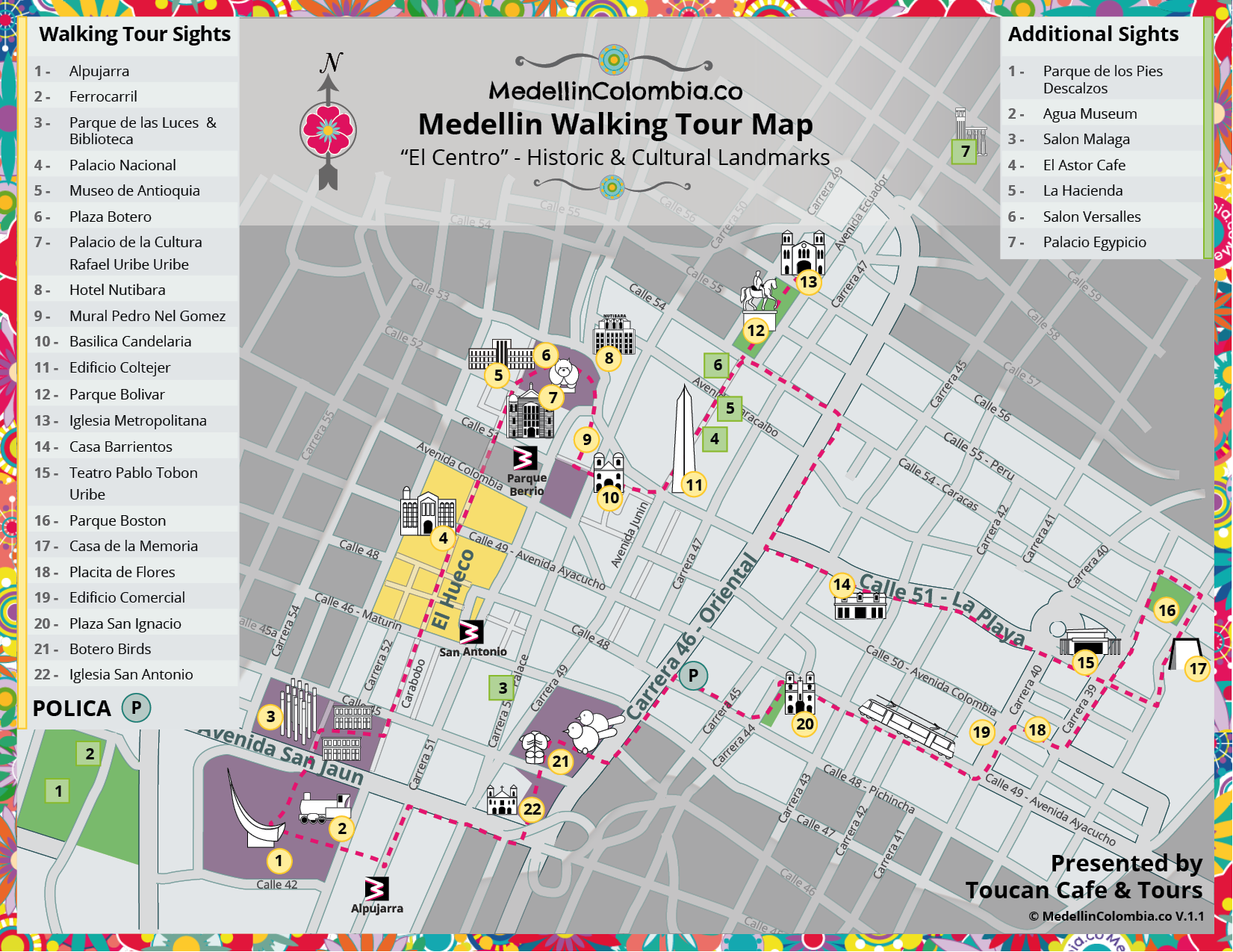 Quick Note about Safety Whilst Downtown:
"El Centro" is a busy and lively part of the city. There are many pickpocketers and the risk of being mugged is significantly higher than in El Poblado. Here are some tips to stay safe:
Please use common sense, don't bring anything that you would be unhappy to lose
Use your phone discretely, step inside a shop to make a call
Go with other people and look out for each other
Stick to the trail of the map
Don't go on a Sunday. Most shops and businesses are closed and you'll stand out like a sore thumb
Whilst we have carefully chosen the best route for the Medellin Walking Tour we assume no responsibility or liability should anything happen. We have listed the Police Station on the map.
If in doubt we recommend the Toucan Cafe's The Big 50 Walking Tour.
---